Schuller kitchen accessories you need to know about
Schuller kitchens are renowned for their quality, versatility and value. I've designed and installed numerous 'Schullers' since I started working with them around ten years ago. That time has given me invaluable experience that you won't find at any other Schuller dealer's nearby. What many people don't know is that Schuller don't just manufacture kitchens. They also make a raft of accessories that will make your 'Schuller' totally unique to you and your home. Lets have a look at some of the fantastic extras you can add to your new kitchen.
Kitchen wall panels:
One of the big design discussions I often have with my clients is what to do about the recess wall space between the worktop and the overhead units. Many people take the traditional route and fit wall tiles, others go for sheet glass in a colour of their choice. But Schuller offer another option in their panel system. From 40cm to 250cm you can transform the look of your kitchen with a wall that's smooth, stylish and totally unique to you. Those wanting a smooth splash of colour to complement their kitchen furniture can choose from eleven plain lacquered colours. Whilst the more adventurous can choose from one of twelve photographic prints that look great when scaled across the wall. If that choice wasn't enough, you can also choose from natural effects, such as wood and stone.
The other strength of the Schuller panels is the brilliant storage system that has become such a popular option. The concept couldn't be more simple. Essentially, a durable aluminium slot that runs the full width of the panel can be used to hang a selection of storage solutions. From knife racks to spice racks, from utensil hooks to kitchen roll holders, the choice is yours. What this means is that you have a practical and stylish way of keeping the things you use constantly close to hand.
The above image shows the panel system in all it's simple glory. This is a photograph from one of our installations in Penarth, South Wales. For more details, take a look at our online portfolio.
Open shelving:
Schuller's open shelving is a great way to store those cook books you're given each Christmas. By keeping them in the kitchen, on view and close to hand, you might be tempted to take one down, open it and start cooking something new for your family. These good looking and durable shelves come in a range of 24 colours in satin lacquer and you can use them to blend in or as a splash of contrast that will highlight a specific area.
Schuller open shelving offers a great way to inject some contrast or a splash of colour to your kitchen.
Open pan drawers:
Digging around in a cupboard for your milk pan can be such a pain. With that in mind, Schuller's Country range offers a very tidy solution. The open pan drawers have retractable runners that work on a push release system. Simply push on the front panel and the open drawer slides out for easy access to your pots and pans. The shelf is fitted with rubber strips to protect the lacquered surface from abrasive pan bottoms, Schuller really have thought of everything.
Real wood drawer inners:
Adding the finer details to a kitchen can make such a difference. Schuller have a range of internal drawer accessories that add a real touch of class. Cutlery drawers will never look mundane with a high quality oak insert and the wooden plate holder will help to keep things organised whilst looking great. Schuller also offer wooden pan lid storage and even a bread bin for those looking to get the most from their available storage.
Equipment:
If you fancy using an integrated multi-purpose slicer, Schuller have you covered. This great little gadget folds away neatly into the drawer when not in use, whilst springing to life with a quick twist, ready to slice whatever you throw at it.
As well as the slicer, you could also opt for an integrated set of digital scales that take convenience to a whole new level. With a set of scales close to hand but hidden when not needed, you'll never get a measurement wrong again.
The ultimate le mans:
Kitchen corner units always present a bit of a challenge when it comes to easy access to the furthest recess. That's why Le Mans are such a popular solution. Schuller have three Le Mans options. The swivelling pull-out, The swivelling slider and the carousel. Each one is a two shelf system and is built with the typical Schuller quality that means they'll last for years.
Waste sorting:
With all of the recycling rules laid down by local councils, it can be a real pain to sort everything before the next collection day. Schuller have an ingenious solution with their 4-part waste sorting bin. This clever layout is built into a specially adapted cabinet and makes it easy to separate you waste as you go, without the need for individual bins taking up valuable space in your kitchen.
Full Height Larders:
Stacking a large supply of food and condiments in a cupboard never ends well. There's always something that never gets used because you forget it's there. With Schuller's larder units you'll never have that problem. All of the food packets and tins are there to be seen and so are never forgotten or lost. There are three larder options, a full pull out, a tiered pull out and a sturdy internal drawer option.
Lighting:
The way you light your kitchen will make a huge difference to the look and the atmosphere of the room. Effective lighting strategies will literally transform a basic kitchen into a visual feast. Schuller offer a huge number of lighting options that can be incorporated into your kitchen. With some clever design you can enhance features of the furniture for both practicality and style. There are too many options to mention here, which is why I've put together the photo montage above. Hopefully that will give you some ideas that you can incorporate into your room.
Assisted opening cabinets and drawers: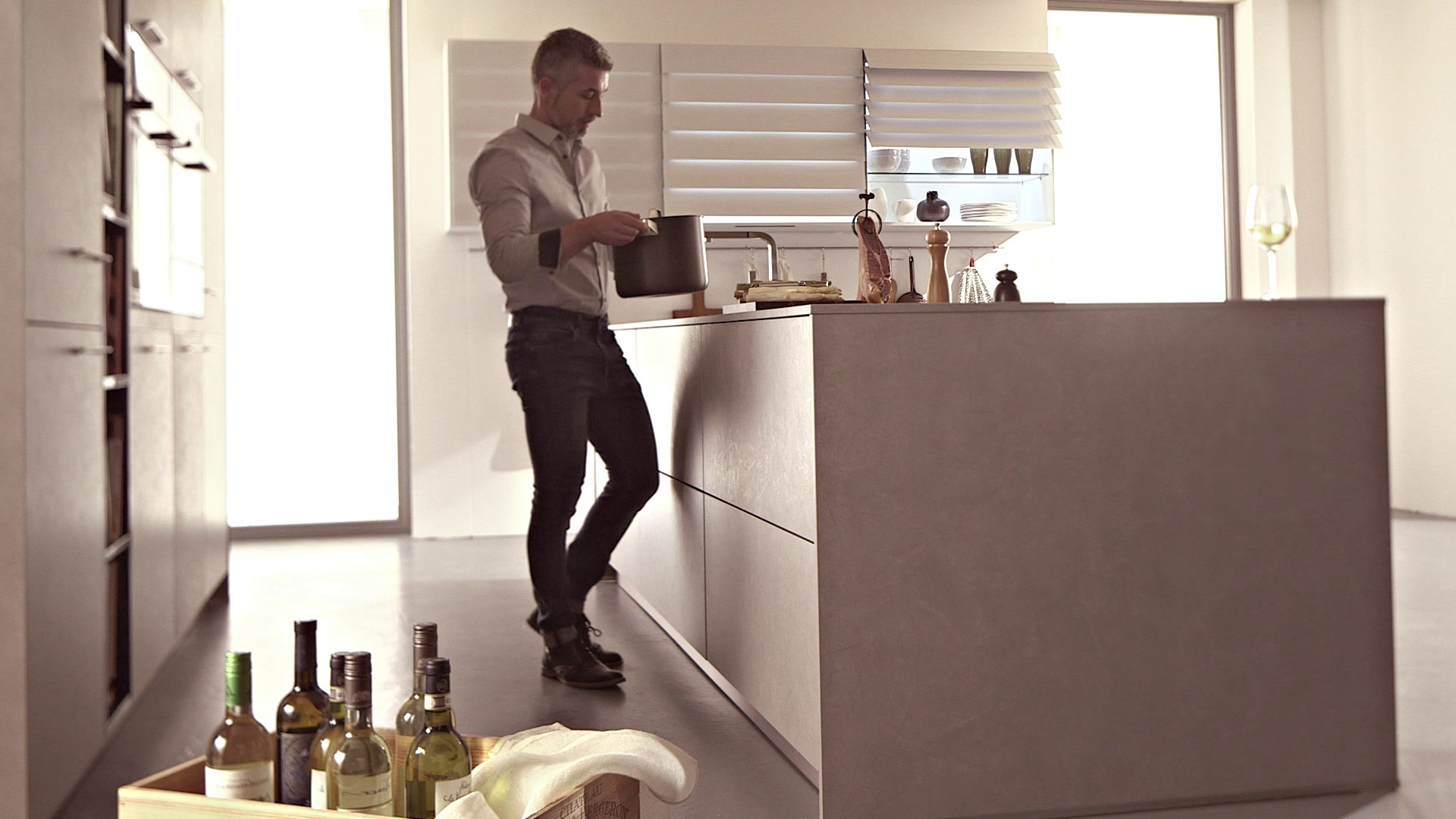 CLICK THE IMAGE ABOVE TO PLAY THE VIDEO AND SEE THE DRAWERS IN ACTION
Schuller's "tip on" technology combined with assisted opening mechanics make the heaviest of drawers a breeze to use. Simply tap the front of the unit and stand back while the drawer gracefully slides out.
The C-Drive automated wall cabinet system is another must have for the gadget minded. A quick tap on the door will activate the opening mechanism, which is closed by touching the neat close button on the front of the panel. Schuller also offer a slatted glass cabinet that retracts using the same C-Drive mechanism. It looks very smart for and you'll never tire from it's super smooth movement. It's like something from a Bond film.
Schuller kitchens offer so much more than other manufacturers. They really are fantastically versatile and offer an unlimited range of design options and practical solutions. Combine Schuller with a talented designer and you can guarantee that you'll have the best kitchen with a list of features that outstrips the competition with ease.
Why not contact me today and we'll go through your kitchen design needs. I have more than ten years experience with Schuller kitchens and know all the ways to get the very best from this wonderful kitchen furniture. I know we can make something very special that will delight you and make a positive change to your home.
Category: kitchen design